There are as many cultures as there are oganisations. Each organisation has it's unique culture, and so does yours. How effective and strong that culture is, depends: either it was intentionally developed, with purpose, or it developed as a result of various habits. We might say: "this is how we do things over here", which does not necessarily mean the culture is effective. Worse, bad habits and poor communication open the door to politics and a potentially flawed company culture.
Culture does not happen overnight, it takes time and a deliberate effort to shape the right culture. It requires a learning effort and sometimes need a change in behaviour or habits.
Catalyst™ is the new platform built by Wiley, to make it easier to engage people in continuous learning instead of one-off learning. It helps learners integrating and experiencing Everything DiSC in their daily work situations and challenges. Whether the facilitated learning sessions are online or in presence, both involve the Catalyst learning platform.
When the learner logs in to the Catalyst platform, s/he can gain insight into their own style, better understand colleagues' style preferences and develop actionalble strategies for working more effectively with other styles.
Past Everything DiSC Workplace and DiSC Classic learners are eligible for a free Everything DiSC Workplace on Catalyst upgrade through December 31, 2020. Contact us at [email protected] to take advantage of this offer.
How does Catalyst work?
1. Everything DiSC Assessment
Learners are welcomed to the platform with a friendly onboarding process that brings them quickly to the assessment questions.
The assessment takes approximately 20-30 minutes. If learners already completed an Everything DiSC assessment in the past, it will be taken into account and they will only be asked to complete some additional questions, taking about 5-10 minutes.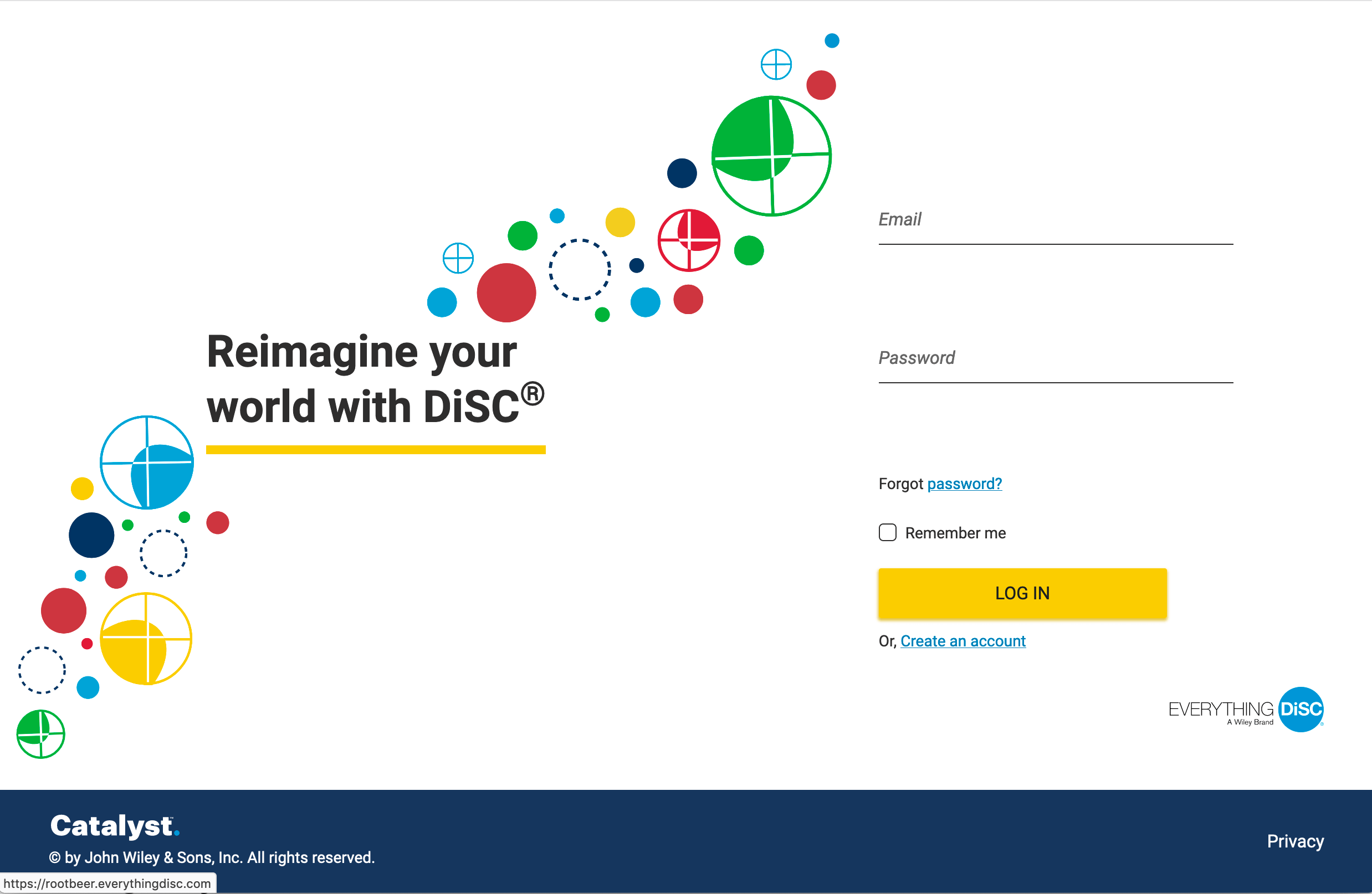 Catalyst brings with a robust and wide-ranging assessment, to enable deeper training and behavior change. The assessment in Catalyst covers the base DiSC questions plus:Everything DiSC Workplace prioritiesEverything DiSC Productive Conflict prioritiesEverything DiSC Management prioritiesEverything DiSC Agile EQ mindsets
Why such a large assessment? Because you can engage in short, more specific learning sessions, and alternate learning on the platform and following a facilitated session, whether online or in presence.
2. Catalyst learning platform
Once completed the assessment, the participant and learner sees a home page, which is personalized and shows a quick summary of his style preference.From there the content is divided in several sections, that you can read both in the learning platform, as well as the PDF report

Your DiSC style
Participants learn about the DiSC map, they see where their dot is oplaced and can read more about their style. They have the choice to ilisten to a podcast about their specific style, or download the PDF version of their report.
People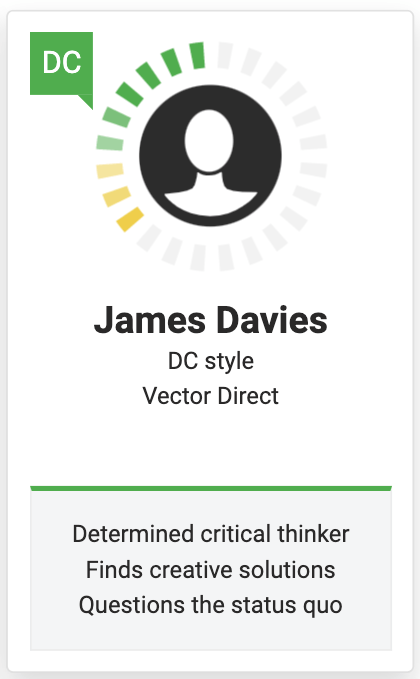 In the people section, you have access to everyone in your organization at a glance. The card for each person shows their name, style, and a few bullet points about them, such as:Determined critical thinkerFinds creative solutionsQuestions the status quo
You can search people, sort by name, style, newest, or department. This is a useful way to see the big picture of how DiSC styles are at work in your company's culture. Selecting a person brings you to a page where you can learn more about that person's priorities and stressors (see James in the example shown).
Short bulleted lists let you quickly discover similarities and differences between your workstyles. Then, you and James are plotted on various continua—e.g., Accommodating to Strong-Willed, or Tactful to Frank—with tendencies for each person spelled out beneath.
A final section focuses on the two of you working together, describing benefits, roadblocks, and tips for different situations.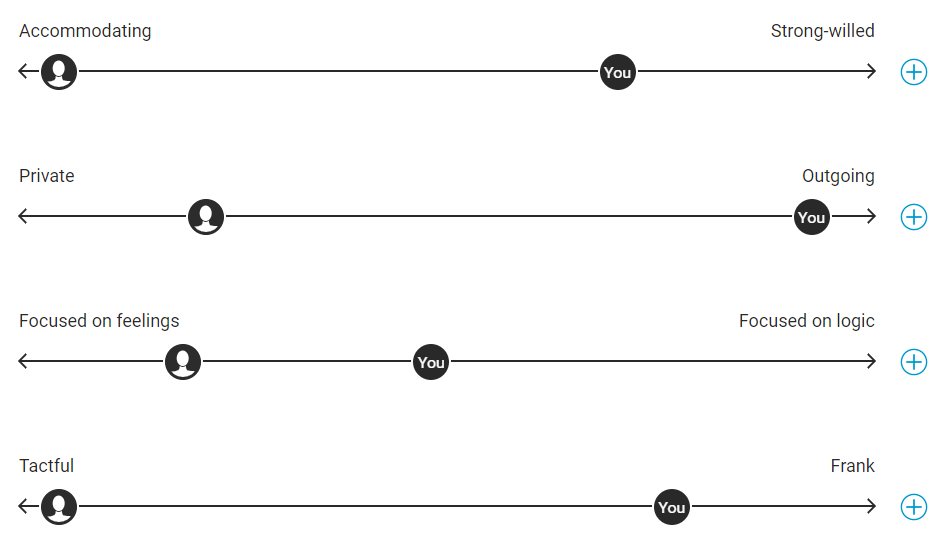 You start with learning about colleagues' styles and how to work together, but do not stop there. This is just as much a great place to return to often to better understand the DiSC style preferences of various teams, or to fish for more actionable tips on working with specific individuals.
For example, if you are headed into a meeting with James, you can take a few minutes beforehand to review his style preferences and priorities and the tips for working with him. Going into the conversation with this mindset will have a positive impact on the success of that interaction.
Workplace
Here, learners will find the personalized content they found in the Workplace Profile, refactored into three learning modules. Presented in this way makes the information easier to link. The independent learning will make sense compared to what you see in classroom learning sessions. The contents are:
How you work: priorities, motivators and stressors, and strategies for stretching beyond your style.
Understand your relationships: How each style relates to yours. Includes videos of people from each style discussing how their style manifests at work.
Build better relationships: strategies to connect, problem-solve, and navigate tense situations with each style.
This content comes from the PDF report (Everything DiSC Workplace) and has been inserted into personalized online learning modules, along with information about teammates of various styles, which makes for a more engaging learning experience.
DiSC-ology
This section guides learners through content that familiarizes them with the DiSC model and the theory behind it. The modules are:
The DiSC model
The 12 styles
DiSC research
DiSC theory
DiSC history
3. Your DiSC Profile
The 23-page profile gives participants insights and actionable strategies for building relationships and being more effective at work.On Catalyst, the personalized information remains largely the same as it was before in the PDF report, but the new PDF (Catalyst) report is reconfigured with a modular design to coincide with the topics in the facilitator resources (the resources the facilitator will use to facilitate open discussions about behavior and style preferences, using DiSC).
4. Facilitator resources
The Workplace on Catalyst facilitation tools have options for virtual and face-to-face facilitation. Workplace on Catalyst facilitation materials are available for download free of charge if you have purchased and registered an Everything DiSC Workplace Facilitation Kit.The basic concepts are the same in the Workplace facilitation kit as in the Workplace on Catalyst version, but some activities have changed to ensure that participants still have a rich experience in a virtual environment. The content has also been reworked to enable several shorter training sessions, as an alternative to one longer session.
Engage and connect in a new and easier way
Organizational culture is in for a change and it is likely to be permanent.
With Catalyst, your learners have access to an easy-to-use platform for ongoing engagement in culture change, and available any time on all devices. Catalyst is a holistic digital learning platform that combines the assessment, the participant's DiSC results and report, personalized content, and offers the possibility to compare your DiSC style preferences with any colleague of your choice.
It can be paired with virtual and/or presence based facilitation, and encourages repeated use as well as independent learning. Catalyst is therefore a single access point for the learner throughout their DiSC journey.Culture happens with or without your input. So you have the choice to let culture emerge in a way that impacts morale and performance, or to take action and shape the culture you want.
We are of course always available for help and support, just contact us, in case of need.