Everything DiSC : unlock your people's potential

DiSC is designed to help learners better understand themselves and others, so they can improve working relationships, strengthen management skills, or tackle conflict with a new mindset.
Everything DiSC exists in several applications, specifically addressing the leader, manager, team member, or sales person.
Everything DiSC is research based, and has been analyzed for over 40 years. The DiSC® Classic Paper Profile was the first DiSC assessment ever, today, Everything DiSC is used by teams, managers, and HR to improve relations! 
Everything DiSC


Personality test at work
DiSC: a 4-colour model that is easy to use and remember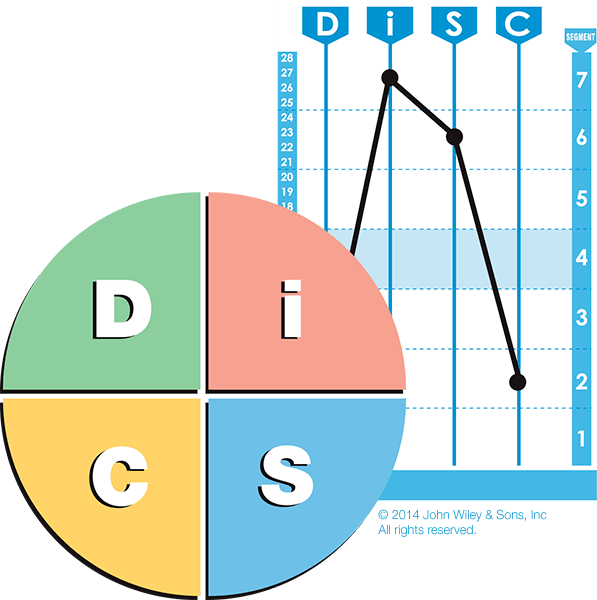 What is the Everything DiSC test represented by the colours red, yellow, green and blue? All DiSC profiles are derived from a very simple model of four personality styles: D, I, S and C. Each person has their own combination of the four DiSC styles, with usually one, two or even three styles standing out more.
The Everything DiSC personality tests do not value one particular type of profile because each person has a unique behavioural profile. People all have different styles and priorities. These differences are extremely valuable. Harnessing each personality type in business helps to optimise communication in the workplace.
Everything DiSC profiles use advanced (adaptive) assessment and sophisticated algorithms to quickly analyse a person's responses and provide personalised feedback. It only takes about 15 minutes.
DiSC: an assessment, a profile, workshop learning and follow-up tools
The DiSC tools offer added value at each step of a learning process and are very practical to use and remember.

Powered by 40+ years of research, each Everything DiSC personality assessment combines adaptive testing and sophisticated algorithms to deliver precise insights to each participant. These insights lay the groundwork for a personalized experience rich with "aha!" moments that inspire behavior change.

The personalized content in the profile deepens self-understanding through the DiSC model. People gain insight into their own preferences and tendencies, learn more about relating to others, and receive actionable strategies to help them improve their interactions and ultimately, their performance.
The profile comes to life in a workshop experience that engages and educates. Easy-to-use facilitation tools, including scripted content, contemporary video, and impactful activities, can be customized to meet the specific needs of your people and your organization.

A suite of follow-up resources makes lasting behavior change possible by keeping Everything DiSC alive in the workplace. Participants can go deeper into their DiSC style, and gain insight into their team's or department's DiSC culture.
Everything DiSC application suite
Each specific Everything DiSC application is designed to help participants better understand themselves and others. Whether improving working relationships, strengthening management skills, elevating leadership impact, or tackling conflict with a new mindset, Everything DiSC delivers insights and strategies to meet the unique needs of your people and your organizational culture.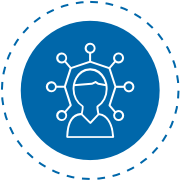 Engage every individual in building more effective relationships at work.
In depth self discovery

Appreciation for diffrences in work styles 

Strategies for successful interactions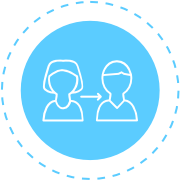 Helps the manager to better involve, motivate and develop their employees.
My preferred management style
Leading, delegating & motivating better
Long term development strategies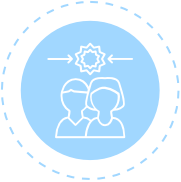 Harness  conflict, transforming destructive behavior into productive responses.
Self-awareness around reactions to conflict

Impact of my responses  

Change responses from destructive to productive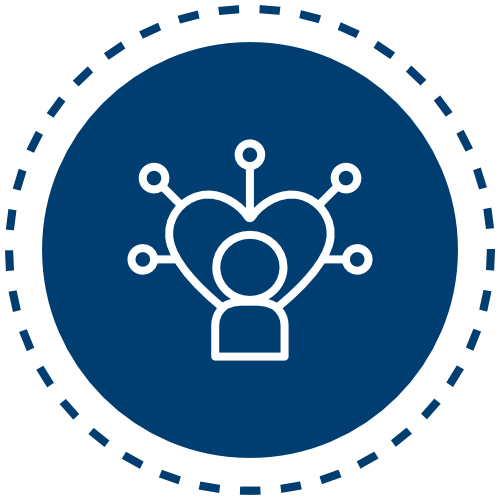 Provide salespeople with the skills to adapt to customers' preferences and expectations
Discovery of personal sales style

Recognition of customers' differences

Adapting your sales approach to customer needs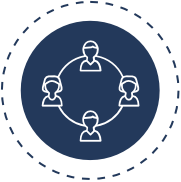 Create impactful leaders through the process of Vision, Alignment, and Execution.
A simple, compelling model of leadership
Insights to leverage strengths and curb challenges
A clear path for improvement
Develop the emotional intelligence necessary to support an agile culture.
Discover your EQ strengths
Recognise your EQ potential
Customise strategies for building agility
Resources: Everything DiSC research and legacy
Psychometric assessments are used to measure abstract qualities that we cannot touch or see. Characteristics such as intelligence, extraversion or honesty can be measured, but do the assessments provide accurate information about them or do they simply generate reactions that seem credible? Find out what validation is and how researchers assess the quality of psychometric instruments.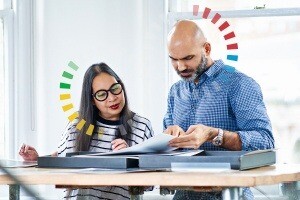 Everything DiSC Research Report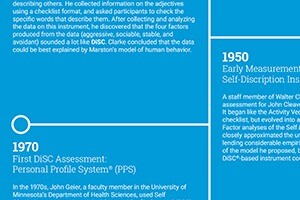 The history of Everything DiSC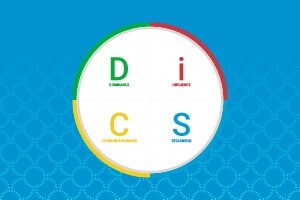 Everything DiSC Theory & Research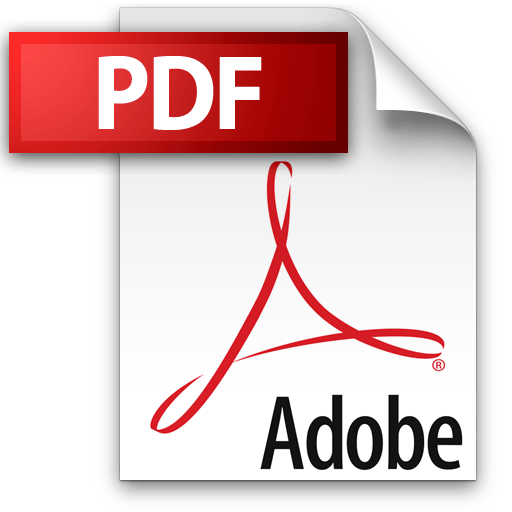 The Personal Profile System. It is a legacy: the Personal Profile System (version PPS2800), was released in 1993, when the first version of a disc questionnaire was released in the 1970s. This research report dates from 1994 and sheds some interesting light on the reliability and validity of DiSC Classic 2.0 compared to previous versions. The latter was based on a 24-item multiple-choice questionnaire, which is still used on the market by several suppliers of disc solutions.
FREQUENTLY ASKED QUESTIONS
DiSC tools: for better management
Do you want to build good business relationships? Do you want to communicate better and understand your prospects' behaviour better in order to sell better? The DISC method is the solution to all these problems. This more effective communication tool brings fluidity to communication and interpersonal relations. Find out in this article what the DISC model is. What are the DISC profile typologies? And why use the DISC tool in management? 
What is the DiSC model?
Dominance (green or red) ;
Influence (red or yellow) ;
Stability (blue or green);
Compliance (green or blue).

To determine the main behaviour of an individual, Marston used two axes. The first expresses his or her view of the situation in an environment (favourable or hostile), while the second expresses his or her propensity to act in that environment (accepting or acting). This self-knowledge helps you to communicate well and to understand your weaknesses.

The DISC model also facilitates the identification of the psychological dominance of individuals in a work environment. As a manager using the DISC tool, you will be able to manage appropriately if you are able to perceive the dominant trait of each of your employees.
What are the types of DiSC profiles?
From the vertical and horizontal axis, William Marston determined four categories of behavioural reactions used todat in the the DISC tool. He assigned four colours to the four typologies for ease of use and understanding.
The dominant disc style
Fiery, powerful, determined, tenacious, assertive and often visionary, the dominant profile has extraordinary potential. This extroverted profile does not beat about the bush. They are direct in their communication (verbal, gestural or non-verbal) and do not hesitate to speak up.
She can appear authoritarian and aggressive with those around her, a potential danger to team cohesion. On the other hand, this person has a competitive spirit, which allows her to focus on her goals. They rely on facts to act and move forward. Business leaders and great intellectuals share this personality type.
The Influence disc style
The person with the Disc Influent profile is social, friendly, optimistic, very demonstrative and enthusiastic. This person has very good interpersonal skills, which makes him or her a valued member of the team. Thanks to her personality, she likes to collaborate and works in a democratic way.
Nevertheless, this person is sometimes superficial in the way she finds problems and manages files. Their objective is to generate enthusiasm, to seek to convince, to seek recognition and collaboration.
The steady disc style
The person with the Disc Stable profile is calm, patient, methodical, loyal, serious, reliable and humble. This personality profile is introverted and flexible and is rather resistant to change. He is able to listen to his interlocutor and never imposes himself. He is a team player. Their objective is to prioritise support and collaboration and to seek balance.
The conscientious disc style
The person with the Conscientious Disc profile is discreet, precise, factual, autonomous, methodical, organised, structured and analytical.
Often perceived as cold and authoritarian, this type of profile is at ease in accounting or administrative jobs. Be aware that the introverted, rigid, task-oriented person likes order and following rules. Their goal is to prioritise precision, balance (monitoring and moderation) and challenge.
Why use the DISC model in management?
Knowing others better to communicate effectively;

Understand others and adapt to their personality;

Adopt empathetic listening and manage difficult situations;

Encouraging communication;

Selling and managing in colour;

Improve interpersonal skills to build positive relationships;

Building team spirit

In the recruitment process, DISC allows the recruiter to better know himself and understand the candidate's own behaviour in case of stress for example. Thus, this communication key also helps you to identify the candidate's motivations, weaknesses, strengths, interpersonal skills and abilities.

In the communication management process, it allows you to adapt your communication to better understand each other and to better cooperate thanks to the empathy it generates. Finally, the DISC tool enables you to adapt to your interlocutors and anticipate their decision-making process, in the commercial approach.