DISC certification for professional use of the Wiley tools




Assess, interpret and make the most of the Everything DiSC facilitation toolkit
Yo

u are an HR professional, facilitator, coach or consultant, this certification will give you more expertise

COACH, GUIDE AND DEVELOP PROFESSIONALLY WITH THE EVERYTHING DISC ASSESSMENT TOOL
Whether you are a coach, trainer, HR professional, experienced facilitator or consultant in charge of projects, this certification will be an added value.
Whether you are a leader or a manager in charge of a team, mastering this management tool will allow you to better understand your peers and team, their temperament, to analyse their dysfunctions and will give you leadership keys to boost and motivate your teams.
This DiSC certification (also known as DISC Assessment, William Marston's theory or the 4 colours method, blue, red, yellow and green) will enable you to better understand and analyse behavior (introverted, extroverted, sensitive, conscientious…) of each person in a real situation by perfectly mastering the tool. This non-compulsory workshop gives you the skills to perform the assessment, to interpret the profile and to use the Everything DiSC facilitation kit in a meaningful way.
WHY CHOOSE DISC PARTNERS FOR MY ONLINE CERTIFICATION?
1
A certification course including 3 essential tools
2
You will be accompanied by experienced multi-potential trainers who have been Wiley partners for over 15 years.
3
An online format that adapts to your professional activity / 6 hours of theory + 6 hours of individual coaching. Theory + Practice + Coaching = your ideal certification course.
MUCH MORE THAN A TRAINING COURSE, A RAMP-UP THAT WILL ENHANCE YOUR SERVICES
+ More skills
The DISC method is recognized worldwide and has proven itself!
Ideal for identifying your interlocutors, their needs and challenges more quickly.
Techniques to adapt your postures in intervention and elsewhere.
+ tools 
The issues to be targeted can be immediately identified via the questionnaires.
A simple, powerful concept for immediate effect and return on investment.
Additional tools that leverage and increase the effectiveness of the intervention tenfold.
+ business impact
A concrete, (fun) and impactful service offer where you learn by doing.
Stand out from your competition.
A training offer with effective business frames.
TOOL: THE POWER OF THE DISC TOOL AT YOUR SERVICE!
Our certification training is based on the Everything DiSC tool from Wiley. It is the most chosen DISC tool in the world after MBTI and ahead of many other well-known psychometric assessment tools such as Insights, the colour method… Commonly used in NLP (Neuro Linguistic Programming), you will become an expert in profile analysis.  
We don't do free tests! We understand your business because we have done it! We are coaches, trainers and salespeople… we will be at your side to help you by suggesting specific approaches to make your investment profitable. We are passionate about what we do and we share it. Online certification: at a distance, at home and according to your availability, this flexible format allows you to acquire all the professional tools while optimising your schedule. Our values: helping you!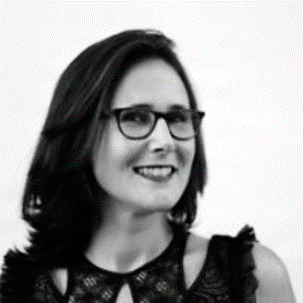 Fanny Breda
Certified trainer, consultant and coach practitioner. A professional DiSC consultant. She is serious without taking herself too seriously.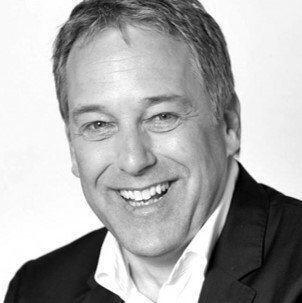 Michael van Eck
Facilitator, consultant, coach, founder of DiSC Partners. Michael has travelled the world to facilitate in some of the largest companies.
Experience in sales, sales management and customer service. 15 years in management (over 100 people).
15 years in recruitment (several hundred people). DiSC trainer active at European and international level (FR, EN and ES)
References and skills in adapting and facilitating to involve participants.
Business leader. Former international sales manager.
20 years using DiSC. Active DiSC facilitator at European and international level (FR, EN, NL, DE).
References, extensive knowledge of psychometric tools.
Program flow
2 parts for more efficiency! First part – 6 hours of one-to-one tuition in 3 x 2 hour sessions online, quietly from home, at your optimum level and pace. It covers the evolution, research, theory, products, use and application of DiSC tools
Second part – 6 hours of individual support from an expert in the fieldof DiSC. 6 hours in 12 months to be used as needed, immediately, or later, all at once, or in parts.
At the end of this training, you will be able to:
Interpretation of DiSC® applications (profiles, reports, tools). The use of the DiSC access code management and sending platform. The DiSC model, its qualities and limitations in the light of its history. The most recent DiSC research and development. Customisation of DiSC profiles and animation material. Feedback using a DiSC profile and its supplement. The agile posture for facilitating disc workshops and getting buy-in.
The diploma
Your DiSC Certified Trainer diploma / certification procedure. A certification questionnaire (included in the price), a certification interview (included in the price).
You get: your official DiSC CERTIFIED TRAINER certificate and your official logo.
You become a DiSC Certified Trainer and are likely to receive proposals for missions during our larger DiSC initiatives where the client asks us to involve several professionals.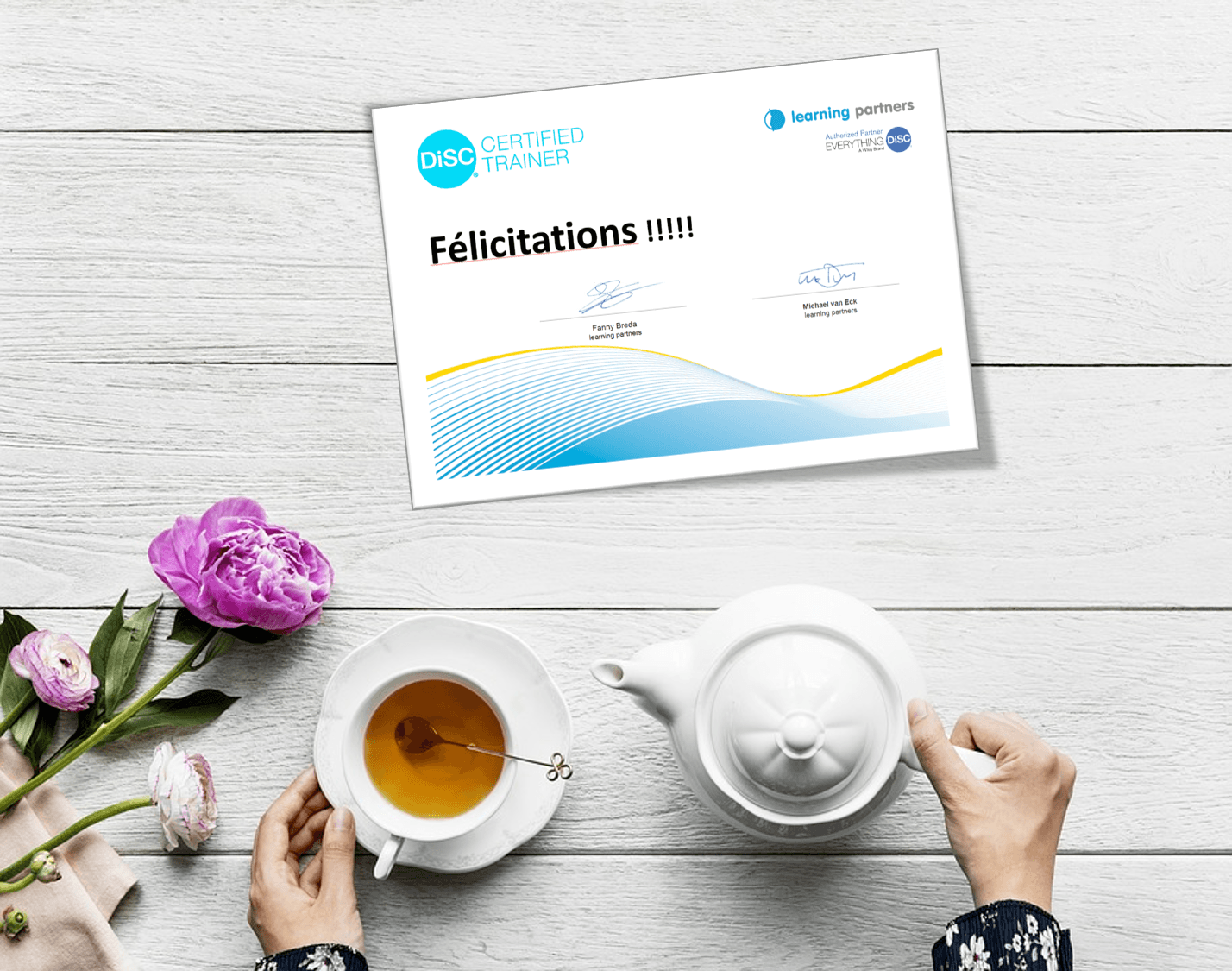 FREQUENTLY ASKED QUESTIONS
DiSC tools: for better management
Do you want to build effective business relationships? Do you want to communicate better and understand your prospects' behaviour better in order to sell better? The DISC method is the solution to all these problems. This effective communication tool brings fluidity to communication and interpersonal relations. Find out here what the DISC model is. What are the DISC profile typologies? And why use the DISC tool in management? 
What is the DiSC model?
Dominance (green or red) ;
Influence (red or yellow) ;
Stabilité (blue or green) ;
Conscientiousness (green or blue).
To determine an individual's primary behaviour, Marston used two axes. The first expresses his or her view of the situation in an environment (favourable or hostile), while the second expresses his or her propensity to act in that environment (accepting or acting). This self-knowledge helps you to communicate well and to understand your weaknesses.
The DISC model also facilitates the identification of the psychological preference of individuals in a work environment. As a manager using the DISC tool, you will be able to manage appropriately if you are able to perceive the dominant trait of each of your employees.
What are the types of DiSC profiles?
From the vertical and horizontal axis, William Marston determined four categories of behavioural reactions with the DISC tool. He assigned four colours to the four typologies for ease of use and understanding.
The dominant DiSC preference
Fiery, powerful, determined, tenacious, assertive and often visionary, the dominant profile has potential. This preference, which is often extroverted does not try to beat about the bush. They are direct in their communication (verbal, gestural or non-verbal) and do not hesitate to speak up.
She can appear authoritarian and aggressive with those around her, a potential danger to team cohesion. On the other hand, this person has a competitive spirit, which allows her to focus on her goals. They rely on facts to act and move forward. Business leaders and great intellectuals share this personality type.
The Influence DiSC preference
The person with the Influence DiSC preference is social, friendly, optimistic, very demonstrative and enthusiastic. This person has very good interpersonal skills, which makes him or her a valued member of the team. Thanks to her personality, she likes to collaborate and works in a democratic way.
Nevertheless, this person is sometimes superficial in the way she finds problems and manages files. Her aim is to generate enthusiasm, to seek to convince, to seek recognition and collaboration.
The Stable DiSC preference
The person with the Stable DiSC preference is calm, patient, methodical, loyal, serious, reliable and humble. This personality preference, which tends to be introverted and flexible, is rather resistant to change. He is able to listen to his interlocutor and never imposes himself. He is a team player. Their objective is to prioritise support and collaboration and to seek balance.
The Conscientious DiSC preference
The person with the Conscientious preference is discreet, precise, factual, autonomous, methodical, organised, structured and analytical.
Often perceived as cold and authoritarian, this type of profile is at ease in accounting or administrative jobs. Be aware that the introverted, rigid, task-oriented person likes order and following rules. Their goal is to prioritise precision, balance (monitoring and moderation) and challenge.
Why use the DISC model in management?
Knowing others better to communicate effectively;
Understand others and adapt to their personality;
Adopt empathetic listening and manage difficult situations;
Encouraging communication;
Selling and managing in colour;
Improve interpersonal skills to build positive relationships;
Building team spirit
In the recruitment process, the DISC allows the recruiter to get to know himself better and to understand the candidate's own behaviour in case of stress for example. This communication key also helps you to identify the candidate's motivations, weaknesses, strengths, interpersonal skills and aptitudes.
In the communication management process, it allows you to adapt your communication to better understand each other and to better cooperate thanks to the empathy it generates. Finally, the DISC tool allows you to adapt to your interlocutors and to anticipate their decision-making process, in the commercial approach.