Five steps to improve team cohesion

Step 1: Which Five Behaviors performance test?
Consistent team building – Any step beyond step 1 requires that:
You have already chosen to work with disc partners,
You followed the product selection process and chose between Five Behaviors powered by DiSC or powered by All Types (based on Jungian types, just like mbti).
You have purchased your access code. Enter the world of the five behaviours of a cohesive team.
We are an authorised Wiley partner. We help you to buy the Five behaviours of a cohesive team and accompany you in the implementation of coherent team training with your teams, to improve team dynamics and team performance.
Don't have your access code(s) yet? This probably means that you are not quite ready... Here is what you can do
At Disc Partners, we are Wiley Authorized Partner and Master Certified Everything DiSC trainers. We offer the full range of Wiley DiSC and Five Behaviors products available for use in facilitated learning or training sessions.
Here you can find the options available to you
Option 1: You need both the assessment (profiles) and the training resources (a facilitator) to run the Five Behaviors workshop.If you need help in making the right decisions about training and coaching, consider contacting us directly.
You will need to purchase 2 items:
Option 2: You only need the assessment and profile reports and will run your DiSC workshop with internal or other resources
You can purchase:
Buy five behaviours assessments and profile reports and run your DiSC workshop independently.
Visit the SHOP or get in touch if you need any help.
Step 2: Take the Five Behaviors test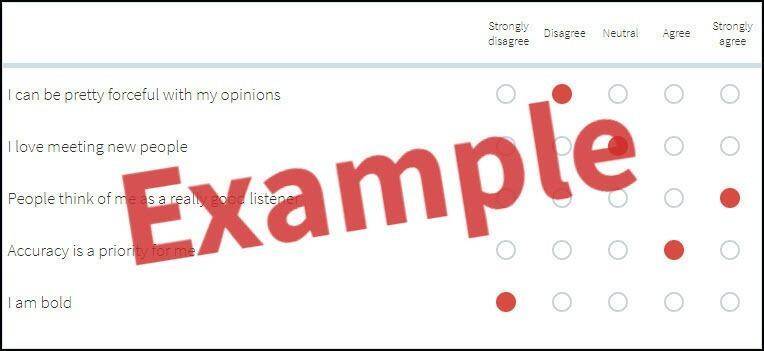 Cohesive team building – Complete the online team performance questionnaire
You have received an access code for the Five Behaviors assessment in your inbox. Click on the link provided in that email and proceed to the next step (do not delete the email, you may need it later).
You answer a simple questionnaire on the "behaviour of your team".
Get a better understanding of the difference between a test and an evaluation, in the FAQ section (top menu) see: test and evaluation, what is the difference? Hint: there are no right or wrong answers.
Step 3: Get your Five Behaviors team profile
Cohesive team building – The online assessment platform produces a Five Behaviors team profile report. It describes your team's strengths and possible blind spots as well as your unique behavioural style, tendencies, needs, preferred environment and strategies for effective behaviour. They help you learn more about your own and the team's strengths and challenges, which remain simple to understand.
Each profile report also includes information about all the other DiSC styles or All Types in the team, so that you can observe the people around you and compare. Remember that there is no right or wrong in DiSC or All Types.
Facilitators often use group reports or other reports available to provide more information and a better understanding of your team and colleagues.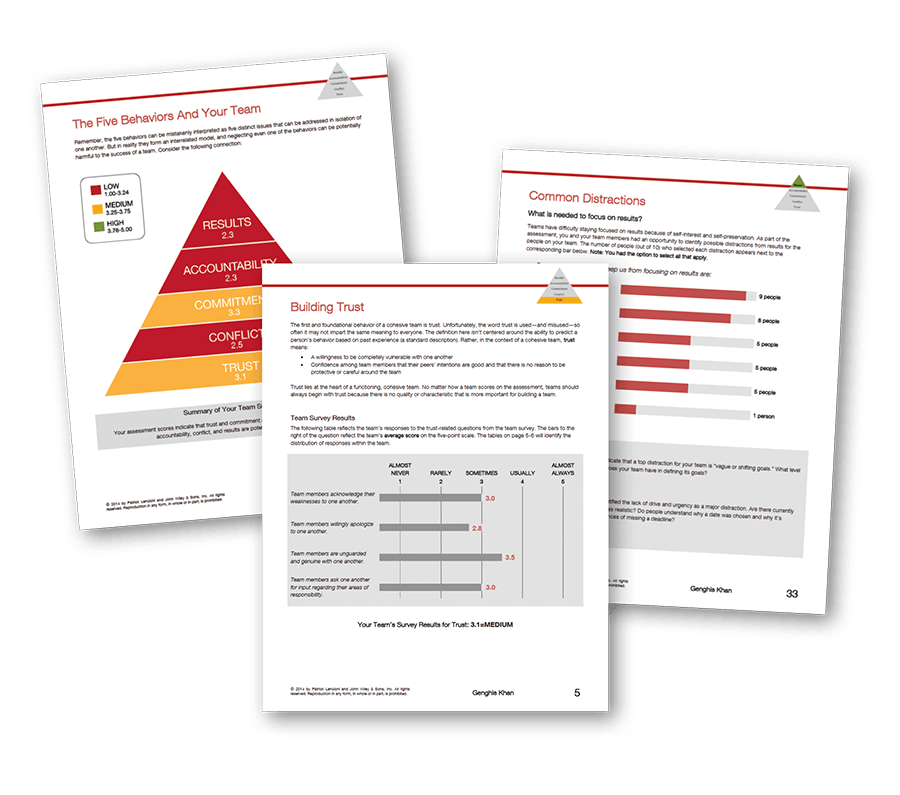 Step 4: Apply the Five Behaviors recommendations
If you stop at this stage, you risk missing 90% of the value that the DiSC Profile Report would add to your knowledge and skills. The impactful part of your DiSC experience starts in Step 3 and the implementation activities you link to the report's recommendations in Step 4. To find out what makes a team effective, consider an in-depth implementation: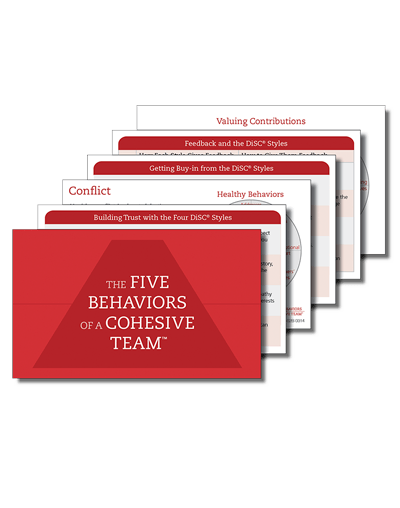 Interpretation of the Five Behaviors team reports for individuals: one by one Personal development and coaching make sense, but the aim is to discover what makes a team effective. It is therefore a team programme. Consider one or more team workshops as a logical choice to further develop and align the team. Individual interpretation is often done with senior management to ensure alignment before launching cohesive team building.
Interpretation of the Five Behaviors team profile during a team workshop: Further improve team interaction, cohesion and effectiveness. Experience immediate and visible results from your Five Behaviors customized cohesive team training.
Step 5: Continue with the free progress report
Cohesive Team Building – A free follow-up progress report
The progress report highlights areas of greatest improvement and possible decline. It provides productive discussion points and suggests an action plan to help teams prioritise and set clear goals. You can run more than one report for free.
You will be able to compare the evolution of a team's "performance over time and highlight areas of greatest improvement and decline.
Components of the report:
The results of the team's survey
Discussion points
Action plan: identify the team's priorities for improvement and set specific targets
Appendix: The impact of your DiSC style, the Everything DiSC Team Map and the Conflict Team Map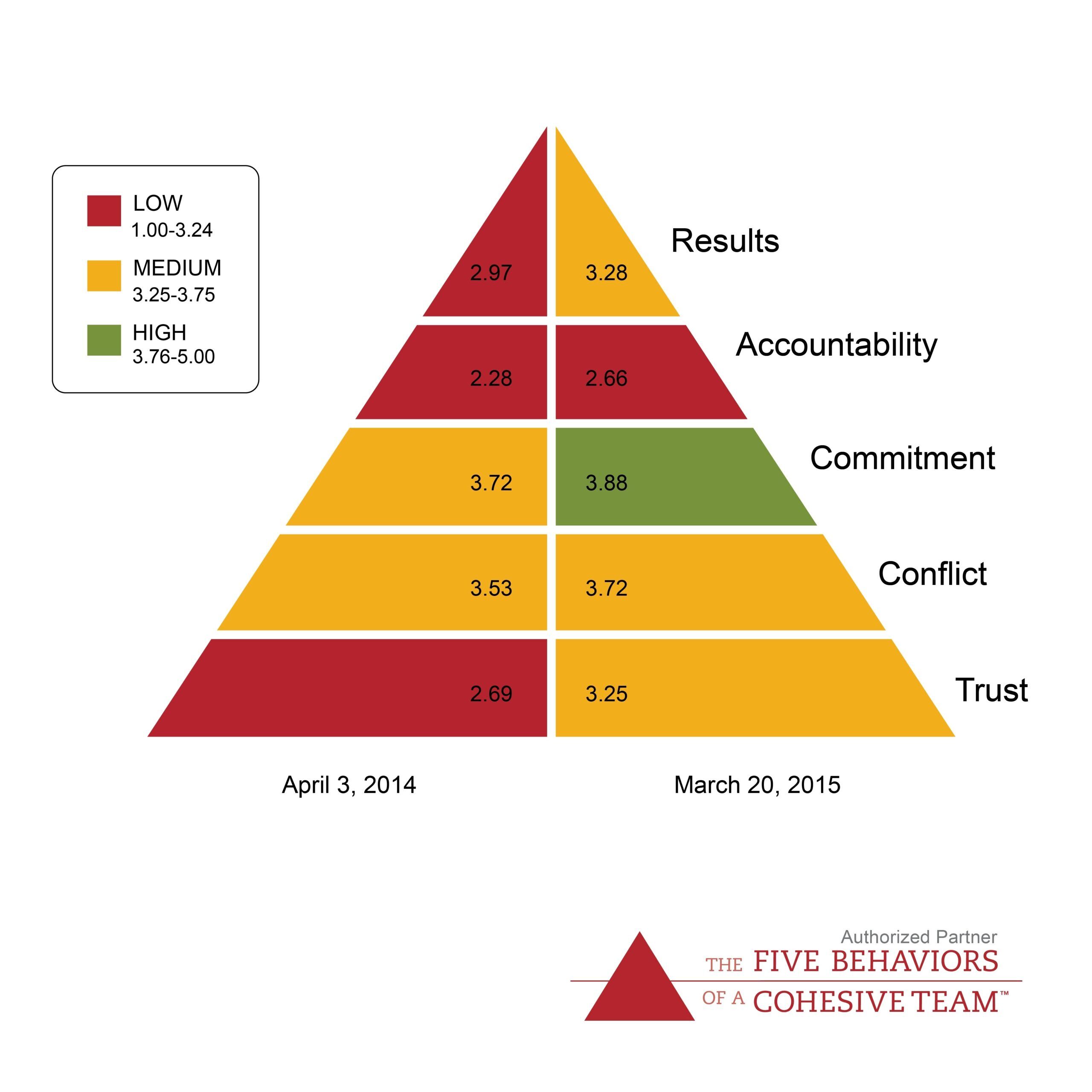 Outils DiSC : pour un meilleur management
Souhaitez-vous instaurer de bonnes relations professionnelles ? Mieux communiquer et mieux comprendre le comportement de vos prospects pour mieux vendre ? La méthode DISC constitue la solution à toutes ces problématiques. Cet outil de communication plus efficace apporte de la fluidité à la communication et aux relations interpersonnelles. Découvrez dans le présent article ce qu'est le modèle DISC ? Quelles sont les typologies de profil DISC ? Et pourquoi utiliser l'outil DISC dans le management ? 
Qu'est-ce que le modèle DiSC ?
Dominance (rouge) ;
Influence (jaune) ;
Stabilité (vert) ;
Conformité (bleu).
Pour déterminer le comportement principal d'un individu, Marston a utilisé deux axes. Le premier exprime sa vision de la situation dans un environnement (favorable ou hostile), tandis que le deuxième sur sa propension à agir dans cet environnement (acceptant ou agissant). Cette connaissance de soi vous aide à bien communiquer et à comprendre vos faiblesses. 
Sachez que le modèle DISC facilite aussi l'identification des dominantes psychologiques des individus dans un environnement de travail. En tant que manager grâce à l'outil DISC, vous serez en mesure d'adopter un management adéquat si vous parvenez à percevoir le trait dominant de chacun de vos collaborateurs. 
Quelles sont les typologies de profils DiSC ?
Issu de l'axe vertical et horizontal, William Marston a déterminé quatre catégories de réactions comportementales avec l'outil DISC. Il a attribué quatre couleurs aux quatre typologies afin de faciliter l'utilisation et la compréhension.
Le profil Disc dominant
Fonceur, puissant, déterminé, tenace, affirmé et souvent visionnaire, le profil dominant recèle d'un potentiel extraordinaire. Ce profil à tendance extravertie ne cherche pas à tourner autour du pot. Il est direct dans son mode de communication (verbale, gestuelle ou non verbale) et n'hésite pas à prendre la parole.
Elle peut paraître autoritaire et agressive avec son entourage, un potentiel danger pour la cohésion d'équipe. Par contre, cette personne a un esprit de compétition, ce qui lui permet de se concentrer sur ses objectifs. Elle s'appuie sur les faits pour agir et avancer. Les chefs d'entreprise et les grands intellectuels partagent ce type de personnalité.
Le profil Disc Influent
La personne ayant le profil Disc influent est de nature sociale, amicale, optimiste, très démonstrative et enthousiaste. Celle-ci entretient un très bon relationnel, ce qui lui permet d'être une personnalité appréciée au sein de l'équipe. Grâce à sa personnalité, elle aime les collaborations et fonctionne selon un mode démocratique.
Néanmoins, cette personne est parfois superficielle dans sa façon de trouver des problématiques et de gérer les dossiers. Son objectif est de susciter l'enthousiasme, de chercher à convaincre, de rechercher la reconnaissance et la collaboration.
Le profil Disc Stable
La personne ayant le profil Disc Stable est de nature calme, patiente, méthodique, loyale, sérieuse, fiable et humble. Ce profil de personnalité, à tendance introvertie et souple, est plutôt résistant au changement. Il est capable d'écouter son interlocuteur et ne s'impose jamais. Il sollicite le travail d'équipe. Son objectif est ainsi de prioriser le soutien et la collaboratio  et de rechercher l'équilibre.
Le profil Disc Consciencieux
La personne ayant le profil Disc Consciencieux est de nature discrète, précise, factuelle, autonome, méthodique, organisée, structurée et analytique.
Souvent perçu comme froid et autoritaire, ce genre de profil est à l'aise dans les métiers comptables ou administratifs. Sachez que la personne à tendance introvertie, rigide, et centrée sur les tâches aime l'ordre et suivre les règles. Son objectif est de prioriser la précision, l'équilibre (suivi et modération) et les défis.
Pourquoi utiliser le modèle DISC dans le management ?
Mieux connaître les autres pour communiquer efficacement ;
Comprendre les autres et d'adapter à la personnalité ;
Adopter une écoute empathique et de gérer les situations difficiles ;
Encourager la communication ;
Vendre et manager en couleur ;
Améliorer le savoir-être pour établir des relations positives ;
Établir un esprit d'équipe
Dans le processus de recrutement, le DISC permet au recruteur de mieux se connaître et comprendre le propre comportement du candidat en cas de stress par exemple. Ainsi, cette clé de communication vous aide aussi à identifier ses motivations, ses faiblesses, ses points forts, ses capacités relationnelles et ses aptitudes. 
Dans le process communication management, il permet d'adapter la communication pour mieux se comprendre et mieux coopérer grâce à l'empathie suscitée. Enfin, l'outil DISC vous permet d'adapter à des interlocuteurs et d'anticiper son processus de décision, dans l'approche commerciale.