Five steps to improve team cohesion

Step 1: Which Five Behaviors performance test?
Consistent team building – Any step beyond step 1 requires that:
You have already chosen to work with disc partners,
You followed the product selection process and chose between Five Behaviors powered by DiSC or powered by All Types (based on Jungian types, just like mbti).
You have purchased your access code. Enter the world of the five behaviours of a cohesive team.
We are an authorised Wiley partner. We help you to buy the Five behaviours of a cohesive team and accompany you in the implementation of coherent team training with your teams, to improve team dynamics and team performance.
Don't have your access code(s) yet? This probably means that you are not quite ready... Here is what you can do
At Disc Partners, we are Wiley Authorized Partner and Master Certified Everything DiSC trainers. We offer the full range of Wiley DiSC and Five Behaviors products available for use in facilitated learning or training sessions.
Here you can find the options available to you
Option 1: You need both the assessment (profiles) and the training resources (a facilitator) to run the Five Behaviors workshop.If you need help in making the right decisions about training and coaching, consider contacting us directly.
You will need to purchase 2 items:
Option 2: You only need the assessment and profile reports and will run your DiSC workshop with internal or other resources
You can purchase:
Buy five behaviours assessments and profile reports and run your DiSC workshop independently.
Visit the SHOP or get in touch if you need any help.
Step 2: Take the Five Behaviors test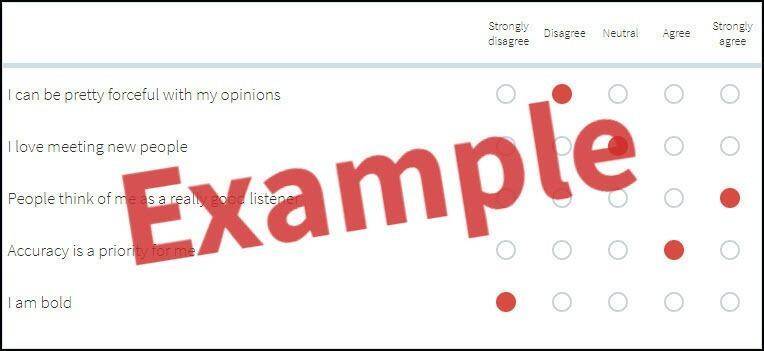 Cohesive team building – Complete the online team performance questionnaire
You have received an access code for the Five Behaviors assessment in your inbox. Click on the link provided in that email and proceed to the next step (do not delete the email, you may need it later).
You answer a simple questionnaire on the "behaviour of your team".
Get a better understanding of the difference between a test and an evaluation, in the FAQ section (top menu) see: test and evaluation, what is the difference? Hint: there are no right or wrong answers.
Step 3: Get your Five Behaviors team profile
Cohesive team building – The online assessment platform produces a Five Behaviors team profile report. It describes your team's strengths and possible blind spots as well as your unique behavioural style, tendencies, needs, preferred environment and strategies for effective behaviour. They help you learn more about your own and the team's strengths and challenges, which remain simple to understand.
Each profile report also includes information about all the other DiSC styles or All Types in the team, so that you can observe the people around you and compare. Remember that there is no right or wrong in DiSC or All Types.
Facilitators often use group reports or other reports available to provide more information and a better understanding of your team and colleagues.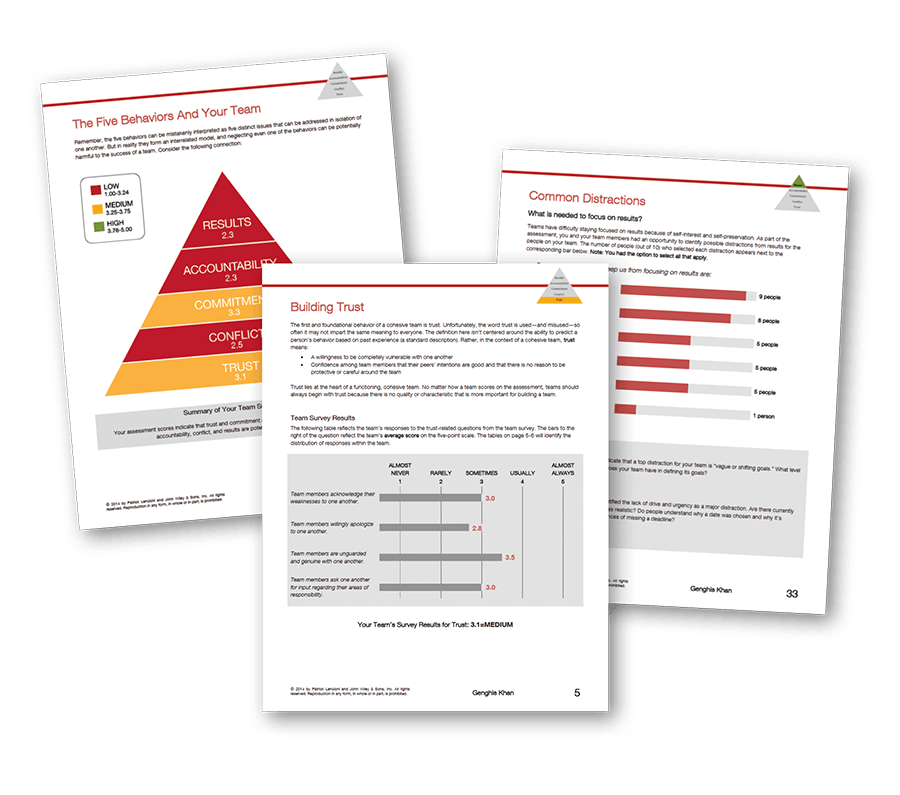 Step 4: Apply the Five Behaviors recommendations
If you stop at this stage, you risk missing 90% of the value that the DiSC Profile Report would add to your knowledge and skills. The impactful part of your DiSC experience starts in Step 3 and the implementation activities you link to the report's recommendations in Step 4. To find out what makes a team effective, consider an in-depth implementation: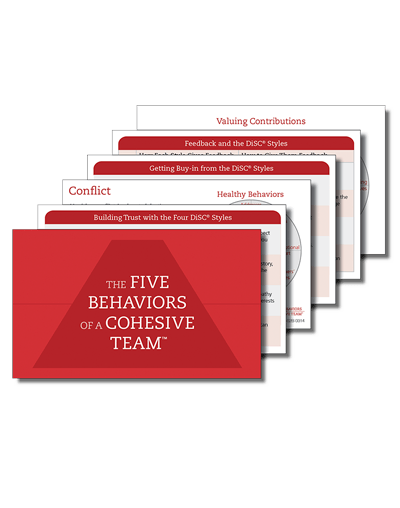 Interpretation of the Five Behaviors team reports for individuals: one by one Personal development and coaching make sense, but the aim is to discover what makes a team effective. It is therefore a team programme. Consider one or more team workshops as a logical choice to further develop and align the team. Individual interpretation is often done with senior management to ensure alignment before launching cohesive team building.
Interpretation of the Five Behaviors team profile during a team workshop: Further improve team interaction, cohesion and effectiveness. Experience immediate and visible results from your Five Behaviors customized cohesive team training.
Step 5: Continue with the free progress report
Cohesive Team Building – A free follow-up progress report
The progress report highlights areas of greatest improvement and possible decline. It provides productive discussion points and suggests an action plan to help teams prioritise and set clear goals. You can run more than one report for free.
You will be able to compare the evolution of a team's "performance over time and highlight areas of greatest improvement and decline.
Components of the report:
The results of the team's survey
Discussion points
Action plan: identify the team's priorities for improvement and set specific targets
Appendix: The impact of your DiSC style, the Everything DiSC Team Map and the Conflict Team Map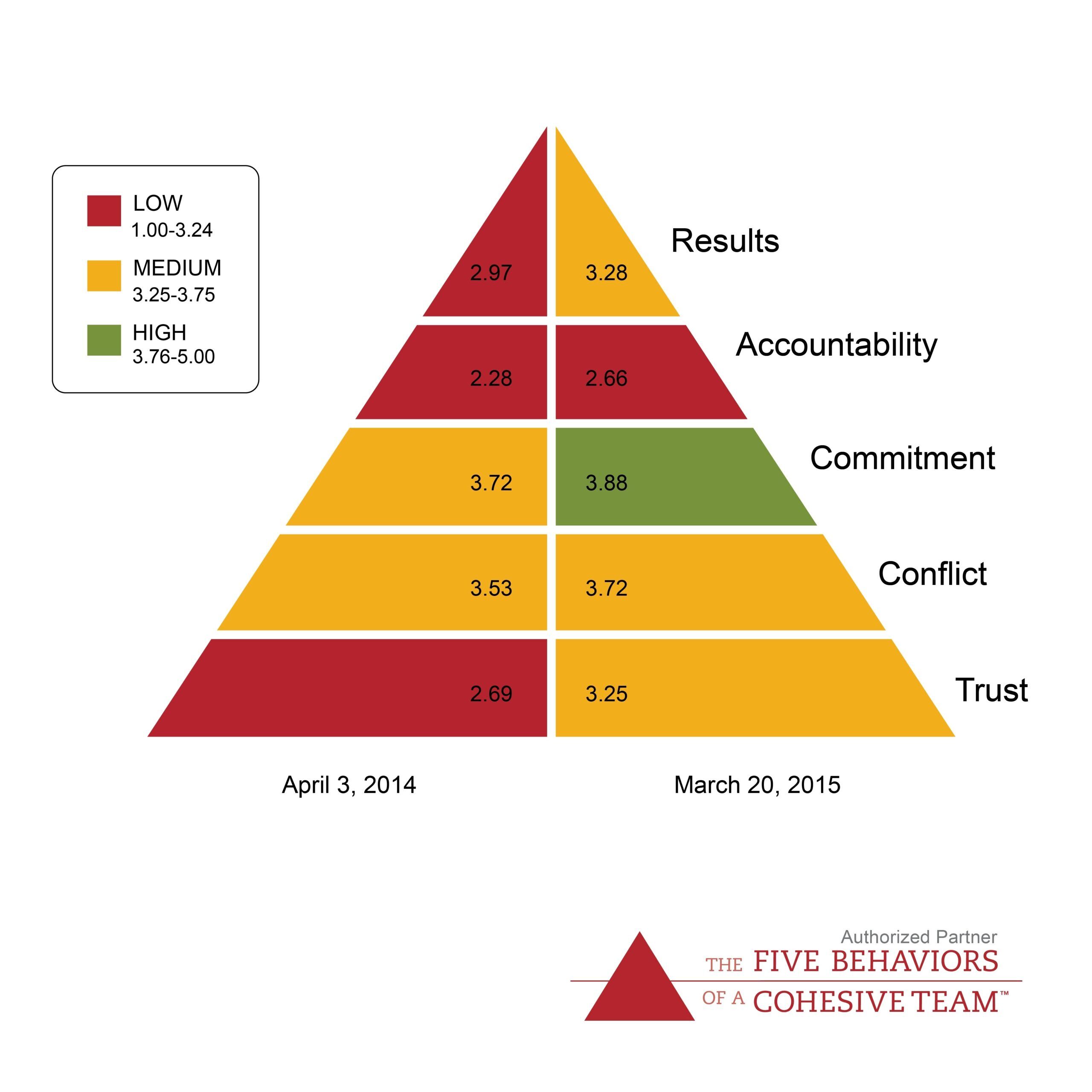 FREQUENTLY ASKED QUESTIONS
DiSC tools: for better management
Do you want to build good business relationships? Do you want to communicate better and understand your prospects' behaviour better in order to sell better? The DISC method is the solution to all these problems. This more effective communication tool brings fluidity to communication and interpersonal relations. Find out in this article what the DISC model is? What are the DISC profile typologies? And why use the DISC tool in management? 
What is the DiSC model?
Dominance (green or red) ;
Influence (red or yellow) ;
Stability (blue or green);
Compliance (yellow or blue).

To determine the main behaviour of an individual, Marston used two axes. The first expresses his or her view of the situation in an environment (favourable or hostile), while the second expresses his or her propensity to act in that environment (accepting or acting). This self-knowledge helps you to communicate well and to understand your potnetial blindspots.

The DISC model also facilitates the identification of the psychological dominance of individuals in a work environment. As a manager using the DISC tool, you will be able to manage appropriately if you are able to perceive the dominant trait of each of your employees.
What are the typologies of DiSC profiles?
From the vertical and horizontal axis, William Marston determined four categories of behavioural reactions with the DISC tool. He assigned four colours to the four typologies for ease of use and understanding.
The dominant style
Fiery, powerful, determined, tenacious, assertive and often visionary, the dominant profile has extraordinary potential. This rather extroverted profile does not beat around the bush. They are direct in their communication (verbal, gestural or non-verbal) and do not hesitate to speak up.
She can appear authoritarian and aggressive with those around her, a potential danger to team cohesion. On the other hand, this person has a competitive spirit, which allows her to focus on her goals. They rely on facts to act and move forward. Business leaders and great intellectuals share this personality type.
The Influence style
The person with the disc Influencestyle is social, friendly, optimistic, very demonstrative and enthusiastic. This person has very good interpersonal skills, which makes him or her a valued member of the team. Thanks to her personality, she likes to collaborate and works in a democratic way.
Nevertheless, this person is sometimes superficial in the way she finds problems and manages matters. Their objective is to generate enthusiasm, to seek to convince, to seek recognition and collaboration.
The disc steadiness style
The person with the disc steadiness style is calm, patient, methodical, loyal, serious, reliable and humble. This personality profile is introverted and flexible and is rather resistant to change. He is able to listen to his interlocutor and never imposes himself. He is a team player. Their objective is to prioritise support and collaboration and to seek balance.
The disc Conscientious style
The person with the Conscientious disc style is discreet, precise, factual, autonomous, methodical, organised, structured and analytical.
Often perceived as cold and authoritarian, this type of profile can be at ease in accounting or administrative jobs, but the style does not determine the preferred job. Be aware that the mostly introverted, organised, task-oriented person likes order and following rules. Their goal is to prioritise precision, balance (monitoring and moderation) and challenge.
Why use the DISC model in management?
Knowing others better to communicate effectively;

Understand others and adapt to their personality;

Adopt empathetic listening and manage difficult situations;

Encouraging communication;

Selling and managing in colour;

Improve interpersonal skills to build positive relationships;

Building team spirit

In the recruitment process, DISC allows the recruiter to better know himself and understand the candidate's own behaviour in case of stress for example. Thus, this communication key also helps you to identify the candidate's motivations, weaknesses, strengths, interpersonal skills and abilities.

In the communication management process, it allows you to adapt your communication to better understand each other and to better cooperate thanks to the empathy it generates. Finally, the DISC tool enables you to adapt to your interlocutors and anticipate their decision-making process, in the commercial approach.